COST SAVINGS AND LONGEVITY
We will work with you from the outset to ensure cost savings on the construction of the whole project, while delivering a high quality product that will stand the test of time and meet your individual needs. Your long term peace of mind is our top priority.
SAFETY AND PROTECTION:
New Zealand has diverse and extreme weather conditions, from harsh sun to extreme wind, rain and hail. Windshadow has developed systems to meet all of these extremes to protect your livelihood from the elements.
Dairy
We pride ourselves on being available 24/7 to discuss any issues you may have currently with your effluent pond or fluid containment.

Whether it be a new or existing dairy effluent pond, new pond lining, irrigation storage pond, residential or commercial landscaping lake, we can design & install the solution.

We use only Firestone EPDM & related high quality products, supported by our Firestone trained installation crew. With a combined 40 years experience dairy farming, dealing with both effluent ponds & irrigation, we understand your problems.

As Firestone trained installers, we provide factory material warranties, plus our own 5 year workmanship guarantee; in addition we offer an ongoing regular site inspection programme to identify any potential problems with your effluent pond e.g. stock incursions.

Reap the benefits of a specifically designed and solidly constructed solution that will allow you to get on with your business.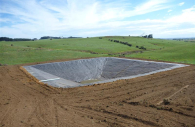 Listing Page Copy:
Take the stress out of your Farm Dairy Effluent management. Together with our strategic partners, we can design, construct and commission an effluent management system to meet your needs now and for the foreseeable future.
Case Study:
Farm Dairy Effluent management solution, from start to finish
Client:
Gary Foidl, Dairy Farmer at Renown, West of Huntly.